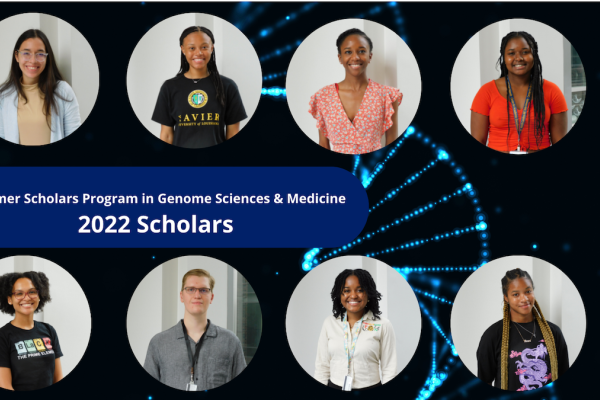 The Duke Center for Genomic and Computational Biology (GCB) and the Center for Precision Medicine has partnered once again with North Carolina Central University (NCCU) for the Summer Scholars Program in Genome Sciences and Medicine, welcoming students to Durham, North Carolina
Eight students from across the country will participate in the 10-week program running May 23 - July 29. Each student is paired with a faculty research mentor for the duration of the program where they will have the opportunity to learn laboratory skills, such has, executing experiments, designing a research project, and effectively presenting future research. Students will learn first-hand what it is like to conduct biomedical research starting with engagement from researchers at Duke, NCCU, and companies in Research Triangle Park.
The Summer Scholars Program is supported by an R25 grant by the National Human Genome Research Institute at the NIH and is designed for full-time first- and second-year students underrepresented in at any college or university interested in pursuing an education in genome sciences and medicine.
MEET THE 2022 SUMMER SCHOLARS:
Ariana Duval
Major: Agricultural & Environmental Sciences
Mentor: Lindsey Constantini, PhD (NCCU)
Aria Grizzle
Major: Biology/Pre-Med
Mentor: Alex Marshall, PhD (NCCU)
Delaney Hill
Major: Biology
Mentor: Ornit Chiba-Falek, PhD
Paola Maldonado
Major: Industrial Microbiology
Mentor: Ashley Chi PhD
Brielle-Anne Michel
Major: Biochemistry and Molecular Biology
Mentor: Hiro Matsunami, PhD
Brianna Smith
Major: Biology
Mentor: Anne West, MD, PhD
Lucien Tessier
Major: Biology and Linguistics
Mentor: Charlie Gersbach, PhD and Christian McRoberts Amador
Sydney Vander
Major: Chemistry
Minor: Biology/Math
Mentor: Paul Magwene, PhD
---