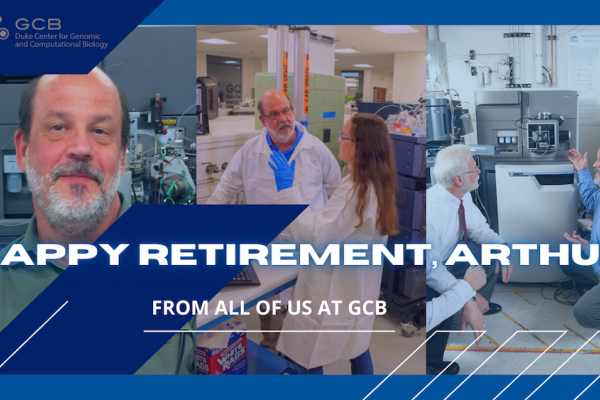 Arthur Moseley, director of the Proteomics and Metabolomics Core Facility is retiring on January 31, 2022. Dr. Moseley started the Proteomics and Metabolomics core upon arriving at Duke in 2007. Here's what some of his colleagues in the lab had to share about him:
"I've worked with Arthur for the better part of 15 years, and it has been a joy. He is a wonderful mentor and teacher and is extremely loyal to his teammates. He is such a patient, trusting, and thoughtful supervisor and he will be sorely missed from the very first day that he starts living out his golden years. I am proud to say that I am the only person whom he has hired three times! Thank you, Arthur, for everything that you've done for me and for Duke!  Now, go have fun and enjoy retirement!"
-Laura DuBois, Sr. Laboratory Administrator
"Thank you Arthur for all that you have contributed to the Duke Research Community in your time as Director of the Proteomics and Metabolomics Core Facility. We have been incredibly lucky to learn from your leadership and constant scientific drive to bring the latest-and-greatest analytical capabilities to our users. Over the past 15 years you have truly exemplified what it means to be a "Force Amplifier" for scientific research at Duke and you will be missed. Enjoy your retirement Arthur!"
-Erik Soderblom, Assistant Research Professor
"Arthur will say that his lab was directed to be a "force amplifier" for research at Duke, and I can think of very few that have made as significant an impact over the last 15 years. At the same time, he is the first to credit those who did the hard work to meet his standards for reproducibility and rigor. We will miss him!"
-Matthew Foster, Associate Professor
"Here's a little something about Arthur that doesn't begin to cover all he has brought to Duke: Arthur has built an enviable collection of mass spectrometers and related analytical instrumentation. To best utilize this powerful equipment he has also assembled a team of creative scientists dedicated to the development and implementation of robust analytical platforms to progress the research of our collaborators.  The hallmark of the Duke Proteomics and Metabolomics Core Facility under Arthur's leadership is his unwavering dedication to returning data of the highest quality to investigators."
-Lisa St. John-Williams, Sr. Lab Research Analyst
"Arthur has a passion for science and treats people like they are family."
-Greg Waitt, Sr. Lab Research Analyst
Thanks for all you have done for the Proteomics and Metabolomics core, GCB and Duke, Arthur! Best wishes for you in retirement, but don't be a stranger. 
---