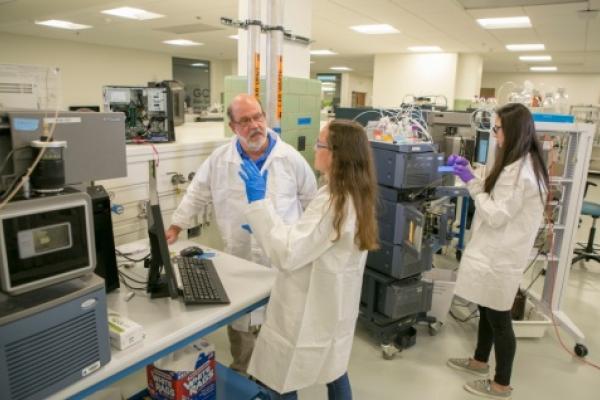 Martin "Arthur" Moseley, PhD, retired from Duke after 15 years of service at the end of January of 2022. Dr. Moseley is an Associate Professor of Medicine, faculty member in the Center for Applied Genomics & Precision Medicine (CAGPM), and Director of the Proteomics and Metabolomics core facility housed in the Duke Center for Genomic and Computational Biology (GCB)
What brought you to Duke?
I was born and raised in North Carolina, growing up visiting college chemistry labs regularly, as my father was a chemistry professor. After receiving my PhD from University of North Carolina Chapel Hill, I went on to work at GlaxoSmithKline (GSK) for Dr. Allen D. Roses in his genetic research lab. After the GSK merger with Wellcome, I shifted from working in the drug metabolism group to a research group in proteomics, which I welcomed, as this was more in line with my graduate studies. My research focused on utilizing a proteomics mass spectrometer, a tool to understand the most quantitative profiling of proteins, their interactions, and modifications. This powerful tool is used in many ways for forensics, food safety, and even toxicology.
Duke approached me to start and run a new proteomics lab, and I couldn't turn down the incredible opportunity. Sally Kornbluth, who at the time was the Vice Dean of Basic Sciences and currently the Provost of Duke University, and Geoff Ginsburg, former director of CAGPM, are the main reasons on why I came to Duke. The moment I stepped onto Duke's campus, I felt like I was home. I grew up on a campus college with my father's job, but I knew wholeheartedly this opportunity at Duke was going to be a wonderful fit to diversify my scientific profile.
How long have you been director of the Proteomics & Metabolomics core?
Since I arrived at Duke! I was hired in 2007, and when I arrived, there was no lab and no staff, just me. I was in the basement of the Levine Science Research Center with 1900 square feet of space – yet it was effective. The need for proteomics and metabolomics only grew, and the rest is history.
How has the core changed overtime? 
First, we've grown from 1 to 5 to now 10 extremely talented scientists. With the growth, we have also expanded into new lab space in the Chesterfield Building. Initially, we only focused on proteomics, but in 2013, we officially took on metabolomics. If you compare the two, the need for metabolomics has increased significantly. This has allowed us to meet the needs of Duke researchers and get a deeper insight of the underlying biology. Duke is extremely fortunate to attract really high-quality scientists.
What role does the core play within Duke?
We provide scientists at Duke with the expertise and tools to characterize their samples, so we look at changes in biology in terms of expression of proteins and metabolites, to inform their studies -- things like, understanding drug resistance, for example. We became a core lab for the Duke Cancer Institute in 2009 to help researchers understand the necessary interventions to properly treat cancer-related diseases. Our laboratory is considered "full-service," meaning we meet with principal investigators to understand their needs, and then, in turn, provide data and sample analysis along with full written reports.
One of the things I've enjoyed most is how our work is multidisciplinary. This has provided me the opportunity to work with a vast array of bright and intelligent individuals.
What has been one of your proudest moments?
Truly, being able to assemble a team of such skilled scientists in the proteomics and metabolomics lab and meeting the needs of so many at Duke has been an honor.
What is one essential piece of career advice for a young scientist?
If you can find synergies with those around you to, collaborating with others will find you greater success. I encourage young scientists to think beyond the walls of their lab – who can help get my research to the next level? By working as a team, you will accomplish more, whether it is through more expensive projects or simply more publications.
What are you planning on doing in retirement?
First, even though I am closing the door with my longstanding Duke career, my door will still be open. I am going to stay as an Adjunct Professor in the Department of Cell Biology. I hope I can continue to be an asset to Duke, whether it is with mentoring, facilitating future work to benefit science, or teaching. I inherited that from my dad. Some of the most fun I've had was interacting with Duke students. Beyond that, I got a new lab [chuckles] that is, a new labrador retriever. I also have a fish room with six fish tanks filled with around 650 gallons of water. I breed discus fish as a hobby. I am also looking forward to more time with my family, especially my daughter, and getting back into fly fishing!
Story originally published on the CAGPM website on March 23, 2022.
---