In addition to becoming a biostatistician, PhD Candidate Kara McCormack also enjoys creating art.  Last year, Kara started attending virtual art workshops hosted by DukeCreate.  DukeCreate offers a variety of programs for students, staff and faculty to develop their creative talents and also give the Duke community the opportunity to come together and also relax, recharge and even promote stress reduction. In particular, Kara appreciated the opportunity to practice mindfulness while creating art.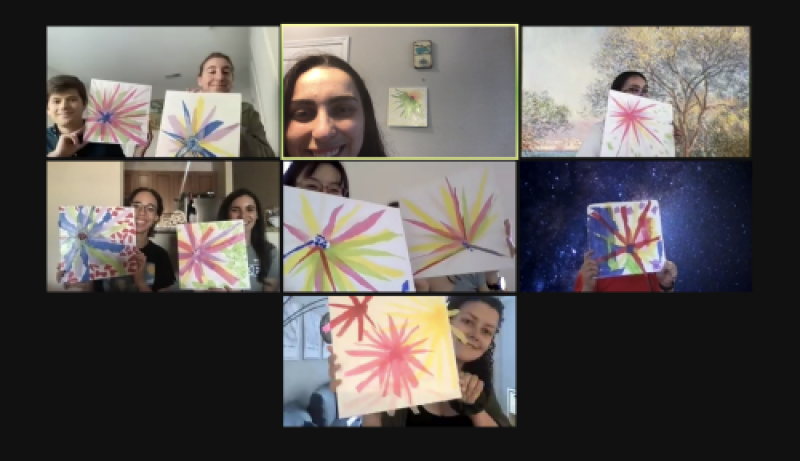 Kara wanted to share her experience with her fellow PhD and Masters students. She applied and received a small Virtual Group Activity Grant from the Duke Graduate School and invited all students within the department to participate.  On March 26th, students picked up their supplies and Kara held a Biostatistics Student Virtual Art Activity.  Students included: Oana Enache, Jameson Blount, Sophia Anderson, Elizabeth Haderer, Dongrak Choi, Siyun Yang, Emily Poehlein, and Mengying Yan.  The class was one hour long, and included instruction on creating a tissue paper design on canvas. Students tore tissue paper into strips and small pieces, and applied them to the canvas using modpodge glue and a paintbrush. Students explored layering different colored tissue paper and juxtaposing contrasting colors in the main design and background. The class provided a relaxing, community-building space, and a chance to catch up with folks who hadn't seen each other in a while.
  
Another artistic endeavor that Kara contributed was in the "The Art of a Scientist" an online exhibition zine which features work from Duke and Durham artists and scientists. This project, in its fourth year as part of Duke Inspire is an attempt to make science accessible in an artistic sense.  Scientists' original research are presented alongside artist interpretations of these findings, in whatever medium they chose and allow the viewer to appreciate the parallels and connections between science and art. Ms. McCormack served as the artist with scientist Katherine Mueller, a doctoral student in Duke's Molecular Genetics and Microbiology Program – Dr. Valdivia's Lab. Their contribution was published in an online magazine for the Art of a Scientist Exhibition. Kara's artistic piece can be found on page 40, alongside Katherine's scientific image on page 41.