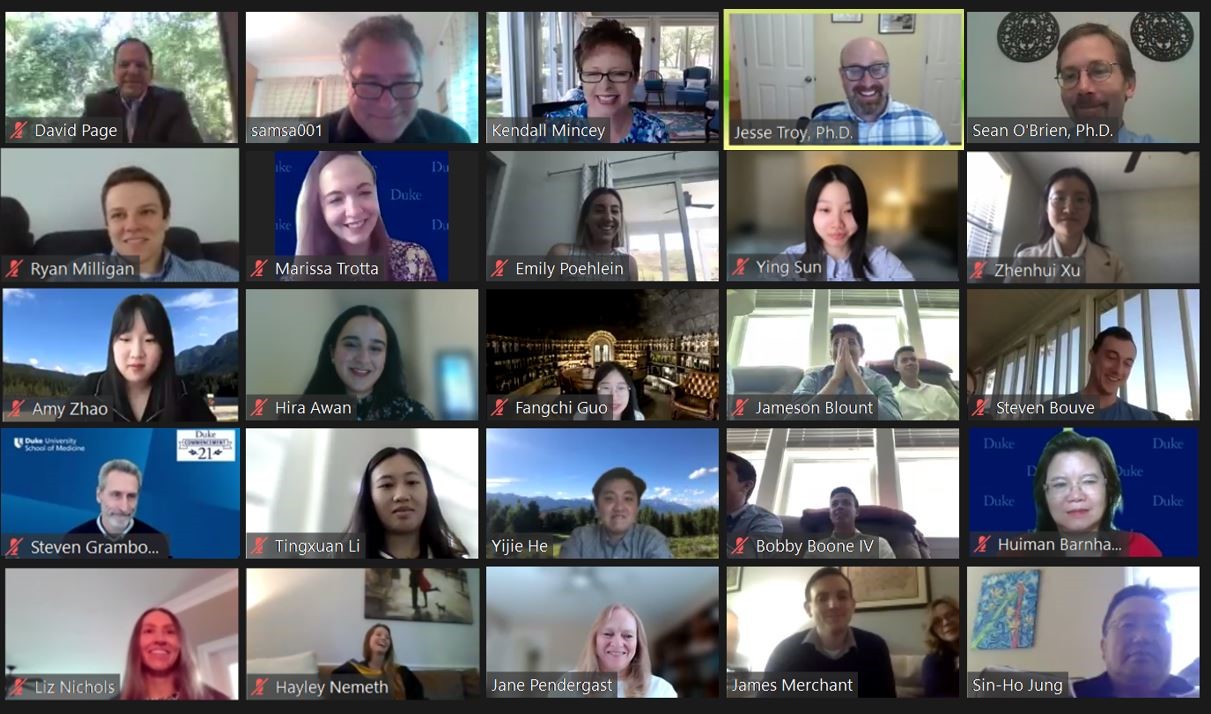 Duke Master of Biostatistics and PhD Programs held the third joint PhD and Masters graduation ceremony on Saturday, May 8, 2021.  
The event started with a slideshow of all students during the past year.  Department Chair David Page, PhD and Associate Chair of Education Steven Grambow, PhD welcomed everyone and gave opening remarks regarding the class of 2021's commitment to excellence and their resilience.  Sean O'Brien, PhD, Director of Graduate Studies for the PhD program, congratulated Jianghao Li, John Pura and Tongrong Wang on successfully completing their PhD this year and detailed their research trajectory at Duke.  Each graduate gave kind remarks expressing appreciation to their mentors, family, faculty, fellow students and staff.  
Greg Samsa, PhD, Director of Graduate Studies for the Master of Biostatistics Program, discussed the extraordinary challenges and from the past year, giving forward and how much the program has grown. Students chose Marissa Trotta for the Student Leader Award.  Marissa commented that the first lesson everyone learned was that the answer to every question in statistics starts with 'it depends.' While the methods and answers will not always immediately clear or defined, the process of learning is how biomedical understanding is advanced. Emily Poehlein, Ying Sun and Amy Zhao received Overall Academic Recognition Awards.  Zhenhui Xu received the Chair's Academic Recognition Award and Emily Poehlein was chosen as the Degree Marshall.  Emily remarked that just when the classes were becoming increasingly theoretical and she wondered how relevant this information was, and would they ever use it? The pandemic experience showed theory becoming practice before their eyes. The power of clinical trials, survival analysis and the biostatisticians behind the work gave us a more immediate sense of purpose for their upcoming careers.  
 
Jesse Troy announced the awards for outstanding masters projects.  These included: Yijie He for the Clinical and Translational Award, Jameson Blount for the Methodology Award, and Hira Awan for the Data Science Award.  Eight students received honorable mentions for their efforts in collaborative and statistical research in their Master's Project.  They are: Sophia Anderson, Zachary Frere, Mengyue Han, Ryan Milligan, Marissa Trotta, Zhenhui Xu, Amy Zhao, and Jinyi Zhou.  Michelle Evans, Associate Director closed the program, congratulating the class on their perseverance over the past two years, meeting deadlines and milestones while continually navigating new covid developments and circumstances. 
Of the 24 graduates, seven will now pursue a PhD in prestigious programs such as Stanford, Duke Biostatistics and Computational Biology, George Washington University, Yale and the University of Iowa. Graduates have also already accepted positions at the Pharpoint, PPD, Parexel, Eli Lilly, Brightech Intl,  Novartis, and IQVIA.  Other students have accepted positions in academic medicine at the Duke Clinical Research Institute, Universities of Pennsylvania and Utah, Georgetown Lombardi Cancer Center and Frontier Science/ Harvard.  Overall, the class boasts of a 98% placement rate. Well done class of 2021!