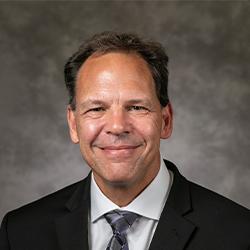 Faculty David Page, PhD was inducted into the American College of Medical Informatics (ACMI) during the American Medical Informatics Association (AMIA) 2021 Annual Symposium in San Diego on Oct. 30th 2021.
 "I am more than pleased to welcome these 11 new, highly-acclaimed ACMI Fellows to the College," said ACMI President Genevieve Melton-Meaux, MD, PhD, FACMI, Professor of Surgery and Health Informatics and Director of the Center for Learning Health System Sciences, University of Minnesota; Chief Analytics and Care Innovation Officer, Fairview Health Services. "They represent an outstanding cohort with diverse and important contributions across our field and more broadly contributions to biomedicine and healthcare. These 11 fellows should be proud to carry the FACMI designation, one of the highest honors in the field of biomedical informatics."
David Page, PhD, serves as chair of the Biostatistics and Bioinformatics Department. His primary research focuses on algorithms for data mining and machine learning, as well as their applications to biomedical data, especially de-identified electronic health records and high-throughput genetic and other molecular data. He joins Faculty Warren Kibbe, and Ed Hammond as well as others at Duke as AMIA Fellows. 
ACMI is an honorary College of elected Informatics Fellows from the United States and abroad who have made significant and sustained contributions to the field of medical informatics and who have met rigorous scholarly scrutiny by their peers. It is the leading professional association for informatics professionals, comprises 5,600 informatics professionals from more than 65 countries. AMIA and its members play a leading role in assessing the effect of health innovations on health policy and advancing the field of informatics. AMIA actively supports five domains in informatics: translational bioinformatics, clinical research informatics, clinical informatics, consumer health informatics, and public health informatics.