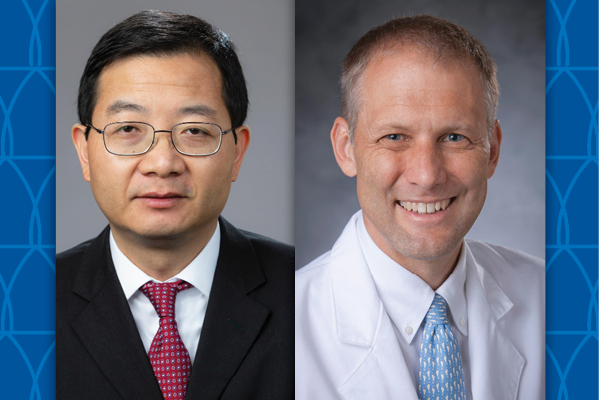 A less extensive surgical option is proving to be an effective method for treating early non-small-cell lung cancer, the most common type of lung cancer, according to a long-term, randomized trial co-authored by scientists from the Duke University School of Medicine. 
After 18 years of enrolling patients and following them, the multi-center trial revealed that removing only part of an affected lung lobe ("sublobar resection") provided similar disease-free survival outcomes as removing the whole lung lobe ("lobar resection"). 
The results of the trial of nearly 700 patients were published February 8, 2023, in the New England Journal of Medicine, accompanied by an editorial.  
Nasser Altorki, MD, a professor of thoracic surgery of Weill Cornell Medical College, and Xiaofei Wang, PhD, a professor of biostatistics and bioinformatics in the Duke University School of Medicine, served as co-first authors, and Thomas Stinchcombe, MD, a professor of medicine at Duke and member of the Duke Cancer Institute, and Everett Vokes, MD, a professor of medicine of University of Chicago, served as co-senior authors.  
"This landmark trial is practice-changing because it establishes sublobar resection as the standard of care for a select group of patients with non-small cell lung cancer," Wang said.  
As the lead study statistician, he was primarily responsible for trial design, data management and analysis, and manuscript writing. "The team faced many challenging statistical and operation issues during such a long-term noninferiority trial," Wang said. A noninferiority trial is designed to show that a new treatment is not unacceptably worse than the current standard therapy.   
Lobectomies have been the standard of care for these patients for decades. A 1995 trial conducted by The Lung Cancer Study Group revealed that patients who had sublobar resections showed higher lung cancer-related mortality rates and more frequent reoccurrence than patients who had lobectomies. But recent advancements in lung cancer screening and staging methods allowed for earlier detection of smaller tumors, prompting a renewed interest in sublobar resections, Wang said.  
The trial began in 2004 and included patients from 83 sites across the United States, Canada, and Australia. About half of the patients received a lobectomy, and about half underwent a sublobar resection. Results showed the 5-year disease-free survival rate was 63.6% after sublobar resection and 64.1% after a lobectomy. The 5-year overall survival rate was 80.3% after sublobar resection and 78.9% after a lobectomy. The 7-year median follow up revealed that sublobar resection was noninferior to a lobectomy, and overall survival rate was similar for both surgical methods. 
Stinchcombe primarily focused on concept development and data analysis. He said it's important that surgical trials like this one are given time to mature and that team collaboration was essential to the trial's success. "Dr. Wang was instrumental in getting the trial done, and he ensured patient safety and quality of the data. Many times the biostatistician's contributions are underestimated in biomedical research," Stinchcombe said.
The trial also followed pulmonary function after surgical resection. Patients with sublobar resection showed less decline in lung function than those with a lobectomy two months after surgery. Wang said that since sublobar resection is a less invasive surgery, more of the lung and its function are preserved. He says this will lead to shorter hospital stays. He expects the impact of the study to be far reaching. 
Stinchcombe said the results of the trial will allow surgeons to tell patients that a smaller resection will not compromise their cancer outcome. "I want to thank the patients. Without patient support and trust in the trial team, the trial's never done," Stinchcombe said.  
The trial was funded by the National Cancer Institute through the Alliance for Clinical Trials in Oncology, a national clinical trials network sponsored by the National Cancer Institute that consists of about 10,000 cancer specialists at hospitals, medical centers, and community clinics across the United States and Canada. Wang serves as director for statistics for the network's Statistics and Data Center.