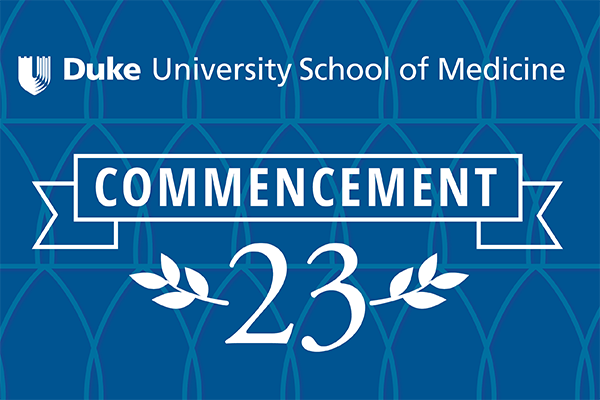 At a May 13 private ceremony held at University Club in University tower, 48 students graduated from the Master of Biostatistics program in the Duke Department of Biostatistics & Bioinformatics.
The program doubled in size during the pandemic. "Each student arrived in 2021 as a uniquely special individual. They now depart as a family of Duke B&B professionals. We've charged them to keep learning, keep growing, and keep in touch," said Kendall Mincey, senior program coordinator.  
Department Chair David Page, PhD, provided opening remarks, followed by congratulations from the Associate Chair of Education, Steve Grambow, PhD. Director of Graduate Studies Greg Samsa, PhD, presented the Student Leader Award winners, Zhengyi Gu and Shifeng Sun, who also spoke afterward.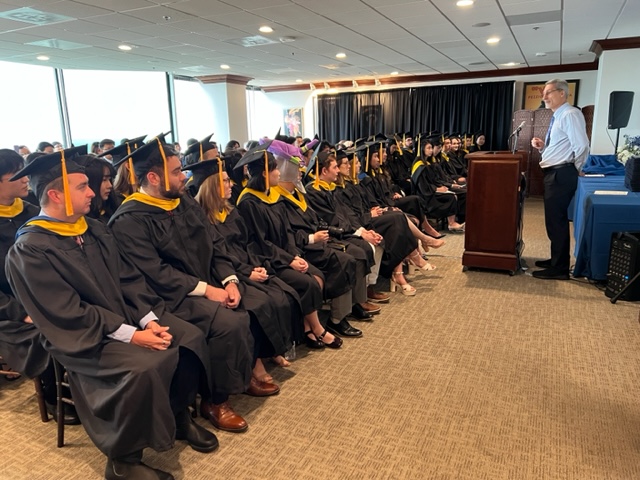 Associate Director of Graduate Studies Jesse Troy, PhD, presented the master's projects awards. Morgan Paul earned the Clinical and Translational Award, Shifeng Sun earned the Methodology Award, and Scott Sun earned the Biomedical Data Science Award. Five students also achieved a 4.0 GPA, a tie for the overall academic recognition award.
Michelle Evans, MBA, associate director of strategy and operation, provided closing remarks. A celebratory lunch was held afterward.
Many graduates will continue their education, with 13 accepted into PhD programs. Six will remain at Duke. Five of them will enter the department's PhD biostatistics program, and one will enter the Computational Biology and Bioinformatics PhD program.
Others begin full-time work; 23 graduates accepted full-time positions, focusing on either hospital or university research, with some work in data analytics. Five will be working at pharmaceutical companies, including Eli Lily and Moderna. A few others will be working at clinical research organizations.
"We are so proud of this year's class," said Laura Coutts, M.Ed, associate director of career development. "They've persevered through the ups and downs of a COVID school year, the rigors of their coursework and master's projects, and we're so excited to see what they do next. Congrats class of 2023," Coutts continued.
The program is now preparing to welcome its largest class ever later this year.