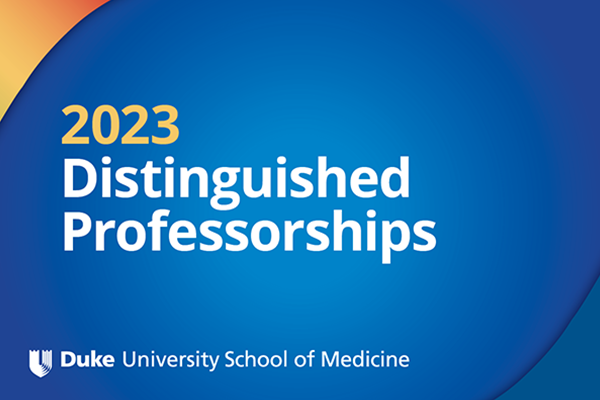 Duke University has awarded Distinguished Professorships to David Page, Phd, Chair of the Department of Biostatistics & Bioinformatics, Susan Halabi, PhD, co-Chair of the Division of Biostatistics, and faculty members Eric Laber, PhD, and Jian Pei, PhD.
The honorees were formally recognized by President Vincent Price and Interim Provost Jennifer Francis during a ceremony on May 4. Price pointed to the broad influence of the winners, and Francis celebrated their commitment to scholarly excellence and mentoring the next generation.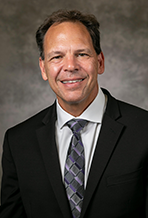 Page, Halabi, and Laber earned the James B. Duke Distinguished Professorship. Pei earned the Arthur S. Pearse Distinguished Professorship. "I'm especially pleased we have four members of our department recognized this year.  I look forward to additional ones in the near future, because we have highly deserving faculty," Page said. Only one other faculty member in the department has previously earned this distinction.  
Page, who is also a professor of computer science, has served as chair of the department since 2019. "I am deeply grateful to Duke and the School of Medicine for this honor. I'm also grateful to my collaborators, colleagues, and students in our department, here at Duke, and in the course of my career," Page said. "It has been a great pleasure working with them on novel AI and machine learning algorithms motivated by biological and clinical data and applications." 
He was recognized for his pioneering efforts to use machine learning in biomedical applications, including the first application of dynamic Bayesian learning to time-series gene expression to better learn how genes cause other gene expressions to change.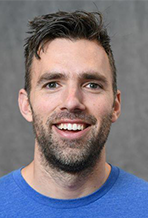 Laber, a statistician who joined the department in 2021, echoed those sentiments. "I am deeply honored by this recognition. It is impossible to adequately express the gratitude I feel to the colleagues, collaborators, mentors, students, and postdocs who have helped me throughout my career," he said.  
He is also a research professor of global health. Laber is an expert in data-driven decision making at the intersection of biostatistics, statistics, and machine learning, with applications in clinical trials, precision medicine, and experimental design.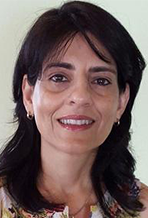 Halabi was appointed co-chair of the Division of Biostatistics in 2019. "I am deeply honored to receive this distinction from Duke University School of Medicine," Halabi said.
Her work over the past 25 years has largely focused on the design and analysis of clinical trials in oncology."I am sincerely grateful to my mentors, collaborators, colleagues, post-doctoral associates, and students who have provided so many opportunities for me to enrich my career, and who have inspired and reinforced my dedication to do what I find most rewarding: research, teaching and mentoring," Halabi continued.
She is currently working on developing innovative variable selection methods for biomarkers and high dimensional data.  
Pei has been a faculty member since 2022 and develops connections between data science and real-world applications. "I am overflowing with joy and gratitude to be recognized among the distinguished faculty and Duke community. This honor is a testament to the tireless efforts of my colleagues and the unwavering support of the B&B department," Pei said.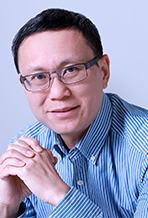 He is also a professor of electrical and computer Engineering and computer science. "I cannot express how excited I am to embark on this journey of collaboration with brilliant minds from diverse disciplines at Duke, and to contribute to groundbreaking interdisciplinary research and community engagement," Pei said. "The opportunities before us are boundless, and I cannot wait to make a difference in the world together." 
Svati Shah, MD, MHS, and Kevin Weinfurt, PhD, who have secondary appointments in the department, also earned Distinguished Professorships.
In total, 44 Duke faculty members were awarded Distinguished Professorships this year for advancing science and improving human health. It takes effect July 1, 2023.