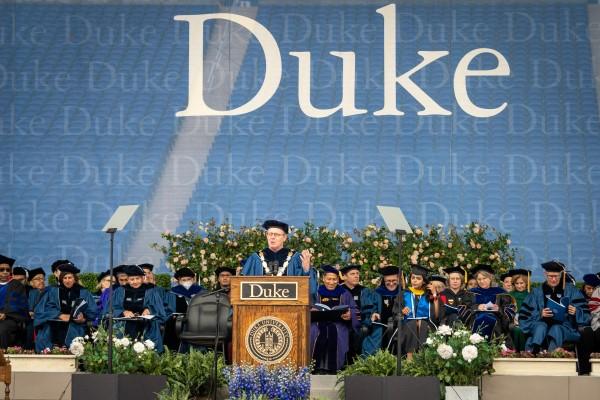 The Duke Master of Biostatistics program held its graduation ceremony and celebration on Saturday, May 7, 2022.
Chairman David Page and Dr. Steve Grambow welcomed the students, family members and faculty.  Dr. Greg Samsa, Director of Graduate Studies, and Dr. Jesse Troy, Associate Director of Graduate Studies, gave remarks and presented awards.
Shusaku Asai and Peijin Wang were chosen by classmates to receive Student Leadership Awards. The class elected Haotian Zhuang as the Degree Marshall. 
Yuqing Liu received the Chair's Academic Recognition Award.  Six students tied with a perfect grade point average for Overall Academic Achievement:  Adina Jan, Yi Liu, Peijin Wang, Yujia Wang, Mian Wei, Haotian Zhuang.
The Outstanding Master's Project Awards were given to Rachel D'Anna, Huimin Wang, and Yi Liu. Honorable Mentions for the Master's Project went to Qichen Wang, Peijin Wang, and Xinyi Fan.
Of the 46 graduates, fourteen will now pursue a PhD in prestigious programs at Duke University, University of Toronto, University of Minnesota, Pennsylvania State University, University of Texas MD Anderson, University of Florida, University of North Carolina at Chapel Hill, University of Colorado, and North Carolina State University. Graduates have also already accepted a diverse range of employment in top companies and academic medicine such as: Eli Lilly, Parexel, FDA, Advent Health, Mayo Clinic, Cytel, IQVIA, UPenn, Boston Children's Hospital, and Fred Hutchinson Cancer Research Center. 
Well done class of 2022!